Review of the Coastal Engineer Manual
Technical Review of "Part II-Hydrodynamics" section of the Coastal Engineering Manual, which Coastal Engineering Research Center is working on to replace the Shore Protection Manual.
The manuals are now available Part I through IV for downloading.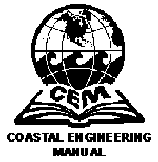 Evaluation of St Wave
The Evaluation of Hydrodynamic Models for Military Use, which includes testing, documenting, providing input and output routines, and modifications to the STWAVE Numerical Model that is used for performing combined diffraction-refraction wave transformations.
Go to the homepage of STWAVE to obtain more information